EVE'S GIRLS

These are our the basis for our orange and black and tan breeding program. Click on the pictures to go to the pedigrees page
Clairmont's Lucy of P.O.E.
Lucy and Ethel are full sisters and were sired by
CH. Great Elms Little Cricket
Lucy weighs 4.5 lbs.
Clairmont's ethel of P.O.E.
Ethel weighs 4 lbs
Great Rivers Gilda of P.O.E.
Gilda has a great coat, weighs 5.5 lbs.
DREAMWEAVER'S
Mistres of the Dark
aka
ELVIRA
Many Thanks to Linda and Mike for allowing me
to have this gorgeous typey little girl. TATTOO,
below, is her sire.
"TATTOO"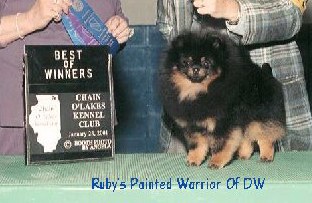 CH. Ruby's Painted Warrior of DW
All Chocolate/Factored Adults are now
posted on the"Chocolates" page.
Our goal is to improve on what we have,
regardless of color.